Every Electric car owner has views on which EV charging networks are the ones they seek out and those that leave such a bad smell you would never go back to unless you absolutely had to. For me Geniepoint put themselves in the latter position in my eyes after a torrid experience at one of their Morrisons chargers at Felixstowe in 2020.
The experience was a representation of all the things that had been wrong with UK charging. There was no contactless payment, a painfully lengthy "car park in the dark" signup process and a machine that refused to offer a charge if you had plugged too soon! Then the final straw..to start buying power you had to add £10 to the account and all future debits were in £10 increments. Not a pre authorisation.. they just took your money. When my charge went a few pence over £10 they debited me another £10. I am still loaning it to them now!
So whats the good news?
Well in a word they have been listening and according to an email I received on the 9th September 2021 Geniepoint has announced the removal of auto topups, admin fees/ connection fees. So just pricing in pence per kWh billed for what you actually use. Details are below.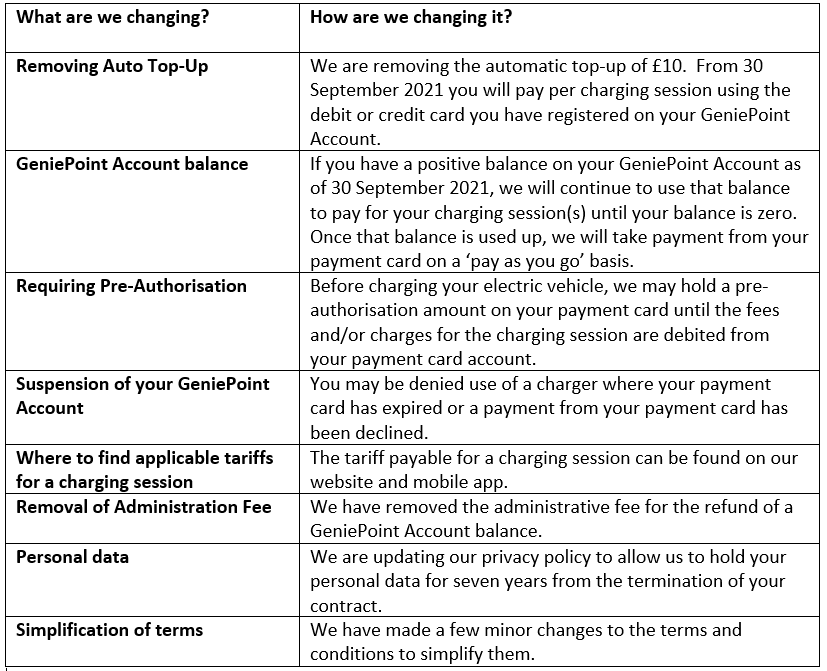 More Good news on the way?
Well yes and no. On the bad news side Geniepoint upped their per kWh pricing from 35p to 43p in the autumn of 2021. This briefly made them more expensive than leading network Instavolt and Osprey who are close on Instavolts heels. In the end though these networks also had to increase their prices soon after as energy costs rose. This leaves Geniepoint still slightly ambitiously priced above Osprey (40p per kWh) and Instavolt (45p per kWh) at the start of December 2021.
Geniepoint have also got some way to go to convince EV drivers that their nextwork is reliable enough.

Geniepoint are finally also talking about rolling out contactless debit card payments which can't come soon enough for EV owners who haven't used Geniepoint before.
Zap Pay gains critical mass as Geniepoint and others join
Five more electric vehicle charging networks have joined Zap-Map's payment system, Zap-Pay.
GeniePoint, Char.gy, Motor Fuel Group (MFG), Revive and Mer have signed up to the service, joining ESB Energy and Osprey.
Once all seven networks are live – expected to be by October – Zap-Pay will cover more than 2,000 charging devices across the UK and more than 4,000 connectors.
Still on the "to do list" for Geniepoint?
Well we would like to see..
Those contactless chargers rolled out
Faster chargers rolled out. We would like to see new DC chargers moving away from slow 50kW speeds up to 100kW at least and ideally heading toward 125kW, 150kW and or even 175kW from now on. New OFGEM rules if implemented should stop bills for power supply upgrades holding this back
We'd like to see the same per kW price for everyone.. with no surcharges for not using an app
Next… the proof of the pudding
Our EV Day trip using public chargers only to Holyhead on Anglesey from London and back is now complete. To make this more representative of usual charging times the trip will be done with:
No more than only 245 miles range on the Model 3 at departure in London
No use of Tesla chargers for the entire trip
No use of the Gridserve 350kW chargers at Rugby!
At 298 miles each way and additional mileage like to take the trip well over 600 miles it's going to be quite a test but then we have already done London to Scotland and back in a day!
We finally got the opportunity to use the Geniepoint charger at Morrisons in Holyhead. The experience was actually very good. All working and quick and easy to begin the charge. Speed was ok. It did still require the Geniepoint app rather than contactless payment but all in all Geniepoint is out of the doghouse in my books.